Overview
Item Reviewed
Cryptsy Review: Altcoins gallore
August 9, 2014
Fiat currencies accepted
USD
Crypto currencies accepted
Almost all popular altcoins. Over 200 altcoins.
HIGHS
Very high amount of alt-coins tradeable
High trading volume on most markets
SD trading
LOWS
Crypto currency deposits take extremely long to be credited
Website/ trading interface gets frozen easily
High trading fees
TRADING(9/10)
Cryptsy has 220 active markets for trading and the list is always growing. If you like to speculate in altcoins then this is one of the top options for trading. There is high volume on popular altcoin markets and Cryptsy accounts for a large share of all altcoin trading.
However, the USD markets were opened very recently and have very little trading volume. The markets available for USD trading at the moment are BTC, LTC, DOGE, FTC and DRK.
Cryptsy does have higher than average trading fees of 0.25% but overall the trading platform is easy to use and navigate and having volume for a lot of markets is key.
INSTITUTION HISTORY(9/10)
Cryptsy was founded by entrepreneur Paul Vernon, and is operated by Project Investors, Inc. The exchange opened for public trading on May of 2013, and its headquarters are located at:
160 Congress Park Dr Suite 101
Delray Beach, FL 33445
USA
SECURITY OPTIONS(9/10)
Cryptsy offers 2 factor authentication with Google Authenticator: User downloads the google authenticator app and uses it input the generated code.
If you do not plan on depositing or withdrawing fiat currency, there are no verification checks and/or standard AML/KNC procedures.
If you wish to trade in USD, you must upload ID as well as a picture of the ID holder holding the ID.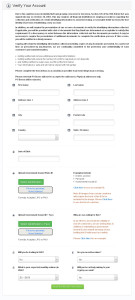 DEPOSIT/WITHDRAW OPTIONS
- Fiat Currency supported
At the current moment USD is the only currency supported by Cryptsy.
Deposit options
Crytopcurrency: Almost all major or popular altcoins are listed on Cryptsy. The only issue here is that sometimes deposits of altcoins or bitcoins take very long to appear inside the user balance. Previously users have complained that they have seen pending deposits in their account that were not credited for over 24 hours.
USD: At the current moment, only Check or Cashiers Check are accepted with the promise more options available soon.
To deposit internationally Egopay is the only option available.
Withdraw options:
Users can withdraw cryptocurrencies in their balances tab. Usually after a withdrawal is requested, an email confirmation will be sent and upon confirming via email link the transaction is processed quickly. The withdraw side for cryptocurrencies on average is a much faster process than depositing at Cryptsy.
MOBILE USEABLITY(8/10)
The mobile view is definitely lacking at Cryptsy. The site is not mobile optimized and would be difficult if you don't have a high resolution phone.
However, there is a 3rd party mobile app that does allow for input of your cryptsy keys and use it for trading. The app is called CoinTrader and can be found here
SUPPORT
Cryptsy support is done through a support ticket system as well as live chat. The response times on support tickets are not particularly fast and can be expected usually within 12-24 hours.

BONUSES TRADING (9.5/10) Bitfinex supports 3 major currencies: Bitcoin (BTC), Litecoin (LTC) and Darkcoin (DRK) If you look at trading volumes at Bitfinex you can see they have surpassed Bitstamp in BTCUSD trading volume and have the largest [...]