Overview
Item Reviewed
Anonibet Sports Review: The pioneer of crypto sports betting
August 9, 2014
Bonus
None, CryptoBettor Bonus
Max bet
Up to 2BTC (Varies per sport)
HIGHS
One of the longest running BTC Sportsbooks
Gold member of BTC foundation
Good livebetting
LOWS
Low betting limits
No reduced juice lines
Not Mobile friendly
BONUSES (5/10)
We offer a cryptobettor sign up bonus on new accounts of Anonibet. Please continue here before signing up for a new account or email support for further details
Anonibet doesn't offer any sign up bonuses, but they do have a 10% discount bonus where players that have losses incurred for the month can have some of the losses back.
All players who place parlays with a minimum of 10 mBTC are eligible for a discount bonus. When they have 50 bet slips (parlays) they are entitled to 5% loss return(THEY HAVE TO BE IN LOSS) and for 100, they get 10 % back. There are no further conditions to the refunded funds meaning players can withdraw at any time. The bets are counted for each Calendar month.
Since this rebate is only for parlays, it isn't an extremely high value option as most bettors are going to be betting straight bets. Remember to check out the cryptobettor sign up bonus on new accounts.
BETTING PLATFORM (8/10)
Anonibet welcomes professional as well as recreational bettors and has a pretty good live betting interface which auto refresh the odds and shows when betting is available. The betting screen is greyed out when it is in play and the latest live odds are not posted. They currently offer live betting on the following sports:
Soccer
Tennis
Volleyball
Handball
Basketball.
If you are doing live betting with soccer, there is a pretty good live betting display that shows you the latest action of the game while you are there, sort of like a simple ESPN game cast
Anonibet has a relatively good interface that is clean and easy to navigate. Markets are separated into easy to find categories. The check boxes on the side of the betting slip make it easy to add or subtract legs on a parlay or bet straight.
Anonibet posts overnight lines for all major sporting events. They also have all the major North American Sports sports including Nascar, CFL as well as UFC/MMA events.
One of the downsides at Anonibet  is that they have relatively low betting limits. Most of the major North American sports (NBA, NFL, MLB, NHL) have max bet limits that vary but usually fall in the under 2 BTC category. This is relatively low and could be a problem if you are usually betting more than that. Due to the small limit, it would seem that the lines would get moved rather easily since they are assumed to be shifted after a max bet. There isn't much propbetting action at Anonibet at the moment. Anonibet currently only offers  parlays but are trying to implement teasers and if bets
CASHIER/SUPPORT ANALYSIS (7.5/10)
Contrary to some of the other popular crypto sportsbooks, deposits at Anonibet are not zero confirmation and are credited to the Anonibet account when they have at least 2 confirmations on blockchain. Withdrawals are not instant either, as they are processed within 2 hours of being requested from 08:00 GMT to 22:00 GMT.
Basically, don't expect some of the near instant or 10 minute transfers you will see at other books. The reason this happens at Anonibet is because they keep all their bitcoins in cold storage rather than having a hotwallet where users can instantly withdraw. This could end up being of importance if hacks happen at 0 confirmation books, but for convenience sake it is definitely not the fastest.
Customer support has two options for contact: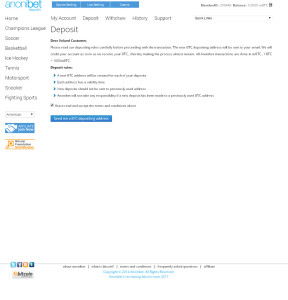 MOBILE (5/10)
The site isn't optimized for mobile and is reasonably difficult to navigate with ease. Overall you can expect it to annoying but not difficult to place wagers on your mobile device. Anonibet has indicated to us that they are trying to improve their mobile platform.
It is quite slow to load a bet into the betslip from mobile view from the time you click add the bet to the time it shows up in the betslip. Selecting a bet directly from the betting screen was buggy and we had to zoom in to that bet and select it in order for it to show up properly.
INSTITUTION HISTORY(8)
Anonibet was founded in 2011, and has been one of the longest running BTC sportsbooks, but they haven't mentioned anything regarding where it is registered or what regulatory permits they have obtained. However they do have some information that should be regarded as helpful: Anonibet is the only Sportsbook and Casino that is a Gold Member of the Bitcoin Foundation. They paid an equivalent of $25 000 for membership to be a gold member, so at least that would imply they are not trying to scam customers and run

BONUSES (5/10) BETTING PLATFORM (9/10) Betcoin welcomes professional as well as recreational bettors and has a relatively good interface but we did find that it was a bit slower to navigate vs some of the other books we tested. Markets are [...]

BONUSES (5/10) Cloudbet offers a 100% first deposit bonus up to 5 BTC. The bonus is not an instant bonus that can be used for betting but credited to the account on the side and must be released with points that can be obtained by betting on the [...]

BONUSES (5/10) Nitrogen Sports doesn't offer any sign up bonuses, but they do run regular promotions. Usually these are small monthly promotions like parlay promos or promos for big events like World Cup betting. Remember to check out the [...]