Overview
Item Reviewed
Cloudbet Sports Review: Big bonuses, high limits
August 9, 2014
Bonus
100% first deposit up to 5BTC, CryptoBettor Bonus
Max bet
Up to 20BTC (Varies by sport)
HIGHS
Great first deposit bonus
High betting limits
Quick cashier times
LOWS
No reduced juice lines
Not Mobile friendly
Not much known about company
BONUSES (5/10)
We offer a cryptobettor sign up bonus on new accounts of Cloudbet. Please continue here before signing up for a new account or email support for further details
Cloudbet offers a 100% first deposit bonus up to 5 BTC. The bonus is not an instant bonus that can be used for betting but credited to the account on the side and must be released with points that can be obtained by betting on the site. The bonus is released in 0.01BTC increments and they release 0.01BTC per every 800 loyalty points. Their loyalty point calculation is as follows:
Loyalty points = stake (in mBTC) x price score (up to 1)
The price score is the square root of the odds, minus one (decimal odds). The maximum price score is 1.
For example if we bet on a match with the odds of 2.28, assuming we placed a bet of 1 BTC, we would obtain 510 points(1,000 mbtc x 0.51 price score). As you can see in this example that, a bet of 1 BTC would not even release 0.01BTC of bonus, so if you are betting an average of 1-2 BTC per match, the bonus will come extremely slowly unless you are betting at a very high frequency.
Larger bettors will find the bonus is more achievable, albeit still releasing quite slowly. A 20 BTC bet in the same example listed above would obtain 10,200 loyalty points for a release of 0.12BTC
As with any bonus release, betting favorites will only worsen the release rate of your bonus as it brings your price score down. Since this bonus is only valid for 365 days, if your goal is to maximize this bonus but not place an extremely large volume of bets, it would be wiser to bet underdogs more often.
BETTING OPTIONS AND LIMITS (8/10)
Something key to note here for bigger players is that they welcome professional players and have high betting limits(max 20BTC per bet on most matches) compared to all the other top rated BTC sportsbooks at the moment. A problem many large bettors have is that they start to have their account "collared" on traditional sportsbooks. Having anonymity is an advantage here for those who face that problem.
There are a variety of standard big league North American and European betting options as well as UFC betting. There are some prop betting options to be found on the site, but nothing to the comparison of top online traditional sportsbooks who have a much wider variety. One thing they do offer that will interest most bettors though, is the live betting function. There are many arbers that like to use live betting to create arbitrage opportunities and Cloudbet is one of the only large crypto books that allows for live betting. Live betting limits are also similar to the normal sportsbook limits and are controlled dynamically. Typically a max bet of 20BTC is in place for major sports live betting.
Cloudbet posts overnight lines for most major sports. Domestic European soccer league lines are up typically 6 days in advance of games (longer for Champions League and Europa Cup matches and internationals). NBA and MLB lines are up overnight. NFL and NCAAF lines are up early in the week.
CASHIER/SUPPORT ANALYSIS (10/10)
Cashier times are extremely fast with Cloudbet. On the deposit side, funds are available to be bet instantly when depositing with BTC (0 confirmation). Withdrawals are processed 24 hours a day 365 days a year. If it is not an abnormally large withdrawal, you can expect it to sent out rather quickly. To add to this, wagers are graded extremely fast with automatic game grading. In most cases, you can expect them to be graded at most within minutes of an event finish.
Customer support has a very fast response time, similar to a larger online book like pinnacle. In our tests, customer service response time was on average in the 10-20 minute mark which is quite exceptional.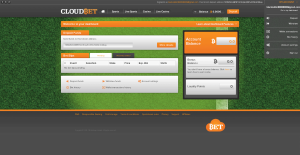 SOFTWARE/MOBILE (5/10)
The sportsbook software is clean and easy to use in most cases. The betting menu is not particularly easy to use. We did notice that when clicking the tabs between the sports, the site did bog down and a bit of time to load new tab menus.
INSTITUTION HISTORY(8)
Not much is known about Cloudbet and where it operates as the owners have decided to remain anonymous.

BONUSES (5/10) Anonibet doesn't offer any sign up bonuses, but they do have a 10% discount bonus where players that have losses incurred for the month can have some of the losses back. All players who place parlays with a minimum of 10 mBTC are [...]

BONUSES (5/10) BETTING PLATFORM (9/10) Betcoin welcomes professional as well as recreational bettors and has a relatively good interface but we did find that it was a bit slower to navigate vs some of the other books we tested. Markets are [...]

BONUSES (5/10) Nitrogen Sports doesn't offer any sign up bonuses, but they do run regular promotions. Usually these are small monthly promotions like parlay promos or promos for big events like World Cup betting. Remember to check out the [...]