Overview
Item Reviewed
Bitfinex Review: Full feature margin trading crypto exchange
August 9, 2014
Bonus
10% off trading fees for first 30 days, CryptoBettor Bonus
Fiat currencies accepted
USD
Crypto currencies accepted
BTC, LTC, DRK
HIGHS
Smooth trading system
High trading volume on BTC
Margin trading
Fast cashout times
LOWS
Only supports USD currency
No mobile app, site not optimized to mobile
Low trading volume on LTC
BONUSES
We offer a cryptobettor sign up bonus on new accounts of Bitfinex. Please register below for 10% off your trading fees for the first 30 days
Register here for 10% off your trading fees for the first 30 days
TRADING (9.5/10)
Bitfinex supports 3 major currencies: Bitcoin (BTC), Litecoin (LTC) and Darkcoin (DRK)
If you look at trading volumes at Bitfinex you can see they have surpassed Bitstamp in BTCUSD trading volume and have the largest trading BTCUSD voume. If you agree that OKcoin's volume cannot be trusted and is highly possible to be faked as many users have long suspected, then Bitfinex is actually the leader in the market in terms of volume. Bitfinex fee's also start at a sliding scale from 0.1% all the way to 0%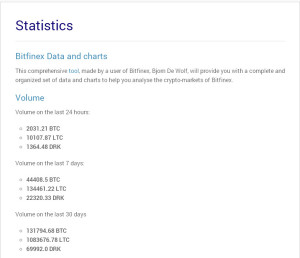 Bitfinex offers margin trading which means users can borrow money and leverage their original money for collateral while paying interest. Bitfinex offers 2.5:1 leverage trading, which is useful for experienced traders. Remember that when you trade on margin there is a liquidation price, and if that price is hit it liquidates all your asses to cover the margin position.
INSTITUTION HISTORY (8/10)
Bitfinex is registered in British Virgin Islands. The platform is owned and operated by iFinex Inc.
The current senior positions are held by
CEO: Jean Louis van der Velde
CFO: Giancarlo Devasini
CTO: Raphael Nicolle
The site previously showed an address in Hong Kong but that has since been taken off. Requests to find out more information about this resulted in responses that the company has since moved to the British Virgin Islands (BVI)
SECURITY OPTIONS (10/10)
Bitfinex offers 2 factor authentication with the following options:
SMS/Text based authentication: User register their phone number and each time you attempt to log in, either a text or a voice call will provide you with a login pin. Users set the preference for either text or voice call in their account security settings.
Google Authentcator: User downloads the google authenticator app and uses it input the generated code.
If you do not plan on depositing or withdrawing fiat currency, there are no verification checks and/or standard AML/KNC procedures.
Standard AML/KMC procedures of passport and bank statement apply as well as an information sheet scanned and emailed to security.
DEPOSIT/ WITHDRAW OPTIONS(8.5/10)
- Fiat Currency supported
At the current moment USD is the only currency supported by Bitfinex. That, however has not slowed down the increased liquidity and trading volume at Bitfinex.
Deposit options
At Bitfinex, USD can be deposited by either wire or egopay.
Wires are usually sent to a bank in Hong Kong and Taiwan. On average it takes about 3-5 business days before the wire arrives at Bitfinex.
Egopay limits are quite small and need to be heavily increased to do trading of a average size. There is also a 2% fee to deposit using Egopay.
Withdraw options:
Users can withdraw either by bank wire, egopay or by withdrawing BTC, LTC or DRK direct to their wallets.
The fee for a wire transfer is 0.1% of the amount withdrawn, with a minimum of $20.00. There is also an express wire option for 1 business day processing at a 1% fee.
MOBILE (6/10)
The mobile view is definitely a bit lacking at Btifinex and there is no app available for trading. The site is not mobile optimized and would be difficult if you don't have a high resolution phone.
SUPPORT
Bitfinex support is all done through email. There is also a forum link in support that leads to an ongoing Bitfinex discussion and bitcointalk.org

TRADING(9/10) Cryptsy has 220 active markets for trading and the list is always growing. If you like to speculate in altcoins then this is one of the top options for trading. There is high volume on popular altcoin markets and Cryptsy accounts for [...]